---
Amazon Continues to Build Its Sustainability Team

On-line giant Amazon has never pushed a sustainability message all that much, and unlike many of its brick and mortar rivals such as Walmart and Target it has never issued a sustainability report.
Is that soon to change?
The Green Supply Chain Says:

Is it possible Amazon will take on sustainability with a whole new approach to what we have largely seen thus far? Our guess is Yes.

What Do You Say?

Click Here to Send Us Your Comments

A few weeks ago, Amazon hired Dara O'Rourke as a principal scientist in its sustainable science team. O'Rourke was previously a professor of environmental and labor policy at UC Berkeley. In the 1990s, he drew attention to the issue of sweatshops in developing countries by exposing what he called "exploitative and hazardous working conditions" in factories in China, Vietnam and Indonesia, notably those supplying Nike, and later was co-founder of Good Guide, a web site which rates the environmental and social performance of consumer products.
O'Rourke joins a team led by Kara Hurst, the company's director of worldwide sustainability and social responsibility, who became Amazon's first sustainability leader in 2014. Hurst is the former CEO of The Sustainability Consortium.

Christine Bader, author of The Evolution of a Corporate Idealist, joined Amazon last August. Then in December, the company hired Christina Page, who led energy and sustainability strategy at Yahoo for eight years.
As usual, Amazon isn't saying much, and is not making any of these executives available for interviews yet. But when Amazon does something, it does it big, so it seems likely that before long Amazon will make a big sustainability splash, and TheGreenSupplyChain.com expects that first Amazon sustainability report to show up before too long.
What especially intrigues us is this notion of "sustainability science." Is it possible Amazon will take on sustainability with a whole new approach to what we have largely seen thus far? Our guess is Yes. But we also guess drones emit a lot of CO2 per delivery.
Study Finds Support for Sustainability is Lukewarm in US Companies

A consulting firm named West Munroe recently partner with Loyola University in Chicago on a survey of more than 50 supply chain executives on sustainability practices - and the results were interesting. Companies ranged in size from just $100 million in annual revenues to more than $100 billion.
More than half (51%) of all survey respondents said that having a Green supply chain was a strategic priority. An additional 22% plan to address Green supply chain in the next 1-3 years, and another 14% have a 3-5 year time range for such action. There were still 12% that place no real strategic importance on building a Greener supply chain.
One of those companies in the latter category had an interesting perspective: "No sustainability initiatives are in place. It's up to the carriers to make this happen."
We guess that's one way to look at it.
Of course, a company's financial condition can impact how much investment is really made in sustainability, whatever the talk is. One company noted that "At one point, we had a VP of sustainability and a company commitment to it, but with financial challenges created by a prior CEO that commitment is not getting the attention it should."
West Munroe observed that "Based on our survey results, it appears very few companies are embracing sustainability initiatives in any meaningful way," the report says. "Until regulations force action, many companies won't be able to find resources and funding to make significant change."
We think that is interpreting the results a bit too negatively, but clearly sustainability is moving too slowly in corporate America for some advocates.
Unilever CEO Says Sustainability Is No Longer a Choice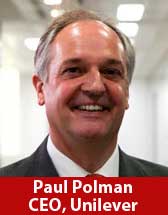 Paul Polman, CEO of consumer products giant Unilever, penned an op-ed piece week saying that embracing sustainability is really a necessity for businesses today.

"It is up to everyone - governments, businesses and communities included - to take action to end extreme poverty and shift to a zero-carbon economy," Polman said, adding that "I'm convinced that businesses have both a responsibility and an interest in supporting sustainability."

Polman added that "Businesses around the world have started to change their mind-set. Whereas many used to see sustainability as an environmental or development issue, they now understand it's also a business and economic imperative."

Polman is also big on the concept of the "circular economy," (See Circular Economy Thinking is Gaining Momentum), observing that "if we shift to a circular economy model, it can generate more than $1 trillion each year and create 100,000 new jobs in the next five years, while reducing both waste and emissions."

Polman cites another study that estimates investments in energy efficiency could boost world economic output by up to $18 trillion by 2035, and a McKinsey analysis that found that the creation of a more equitable workforce, in which women participate in the economy identically to men, would increase annual global GDP by an estimated $28 trillion in 2025.

"Our message is a simple one," Polman concludes. "Business interests and the human imperatives at the heart of sustainable development both pull in the same direction. Business investments and actions are already underway, but we need to come together with governments and civil society in an unprecedented partnership if we want to achieve the scale and ambition of the change needed.

Do you think Amazon will do something big and new in sustainability? Does the economic math of Unilever's CEO on the benefits of sustainability and social justice movements really add up? Let us know your thoughts at the Feedback button below.