Relatively new Walmart CEO Doug McMillon continues to up the sustainability rhetoric and ambitions first started more than a decade ago by then CEO Lee Scott and subsequently carried forward by his successor Michaal Duke, with the release of the retail giant's Global Responsibility Report for 2016.

In his opening letter in the report, for example, McMillon says that "When we get it right, customers are able to shop at ease, knowing we did the work for them. They know that the products on our shelves and website were produced at a low "true cost" for all - not just in terms of being the best value, but in terms of whether they enhance the environment and the lives of all the people who helped produce them."
He also calls out the role of supply chain, noting that "It's been said that "supply chain is strategy," and that's true - it's our opportunity to get things to customers in a timely, cost-effective and sustainable way. The individual choices we make along the supply chain greatly impact the future for all of us."

The Green Supply Chain Says:

Walmart says that last year it achieved its 2005 goal of doubling the efficiency of its private fleet by the end of 2015, based on the metric of the number of cases of products shipped per gallon of fuel burned.

What Do You Say?

Click Here to Send Us Your Comments
That supply chain focus now means that "What was once largely about our own operations has shifted into helping rewire whole systems."
Walmart has organized is corporate social responsibility efforts now around three main vectors: opportunity, sustainability and community.
And to show how far the influence has come, McMillon states that "Ultimately, we believe that serving customers and society is the same thing."

The report later notes that Walmart research with various stakeholder groups has shown that "their expectation is that Walmart - as a leading retailer - should use its strengths in collaboration with others to help reshape social and environmental systems for the benefit of society as well as business.

There are profound impacts from a philosophies embodied in those last two quotes, certainly at minimum in adding new dimensions to traditional supply chain analysis and tradeoff curves.

In this article, TheGreenSupplyChain.com is going to focus on the more supply chain and logistics aspects of the Walmart report. For more detail in other areas, the full report can be accessed here: Walmart 2016 Global Responsibility Report.
Supply Chain and Logistics Activities and Progress

Walmart says it is committed to increasing the share of its procurement spend from "diverse-owned business," but seems from its numbers to be struggling to make much progress.
The spending with diverse-own branded suppliers has risen from $8 billion in 2012 to about $8.6 billion last year, a rise of approximately 7.5% over three year's time. Spend with diverse-owned suppliers for direct imports (we assume that means Walmart private label) rose more sharply, from $963 million in 2012 to $1.5 billion in 2015, but it is not clear how diverse-owned is defined in a global context.
Staying on a procurement theme, a few years ago Walmart promised to source an additional $250 billion in goods made in the US by 2023 (the actual term Walmart uses is sourcing that "supports American jobs"). In this year's report, Walmart references that program, but does not provide a lot of detail on the results, other than to say it is "on track" to reach its 2023 goal.
Of course, a number of years ago now Walmart began its Sustainability Index for suppliers, and over the past few years has emphasized that those evaluations are having more impact on sourcing decisions. Walmart's report says that last year, $135 billion worth of goods sold were evaluated for sustainability performance, and that 260 of its buyers were informed about their suppliers' sustainability performance.
Naturally, reducing energy consumption is a big element of Walmart's sustainability program, broken into two areas, its own energy consumption and that of its extended supply chain. Walmart provides a summary of its progress in both areas in the table below.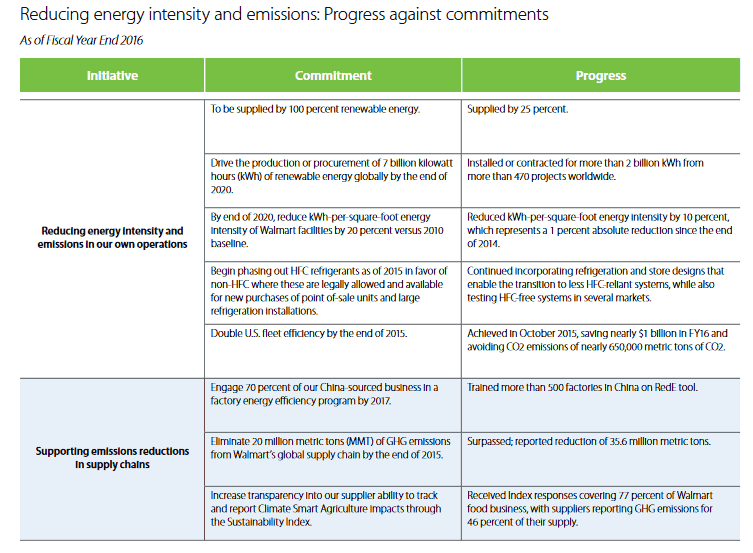 Source: Walmart 2016 Global Responsibility Repor
Most interesting to TheGreenSupplyChain.com in the table is the effort to train Walmart's Chinese suppliers on energy efficiency, with more than 500 factories in China now trained on a tool developed by Walmart to show ways to reduce energy consumption.
For its own operations, Walmart says that at the end of 2015 it had more than 470 on-site and off-site renewable energy projects in operation or under development in seven international countries and 17 US states. Together with its sourcing of renewable electricity from the grid, 25% of Walmart's electricity needs globally are supplied by renewable sources, the report says.
Interestingly, however, the amount of renewable energy Walmart contracted for in 2015 (over 2 billion kWh) actually fell a bit from 2014 levels, for a variety of reasons. Still, the number was about double the level in 2012. Among Walmart's initiatives last year was bringing a wind farm in Texas on-line.
With increasing growth, however, Walmart says it total carbon footprint is increasing, but at a level of about one-third of its business growth, as measured by retail square footage, from 2005-2014, as shown in the graphic below.

Source: Walmart 2016 Global Responsibility Report

Why 2015 was not included in the dataset, nor the results for CO2 versus changes in unit growth, is not clear. GHG emissions from transportation fuel, it should be noted, represented only 5.9% of the total last year, far below the 69% from purchased energy.
In addition, Walmart says that last year it achieved its 2005 goal of doubling the efficiency of its private fleet by the end of 2015, based on the metric of the number of cases of products shipped per gallon of
fuel burned. Some of that improvement has come from advances in truck and engine technology but more from more efficient techniques for loading, routing and driving.

Walmart says those efficiency gains have led to $1 billion in annual savings, and avoided emissions of almost 650,000 metric tons of CO2. What's more, Walmart says "Moving ahead, we are folding our fleet goals into our broader goal of using 100% renewable energy," though it doesn't look now like renewable energies will be used for heavy duty trucking any time soon.
Interestingly, Walmart notes that "there is no greater controllable impact on a truck's efficiency performance than the driver of that truck."
The report says it is able to monitor a driver's performance in a variety of driving categories and that how a driver manages such areas as idling, acceleration, and more have a direct impact on the performance of the truck.
"Tracking them allows us to have well-informed conversations with our drivers to better manage the things they can control while delivering a load of freight," Walmart says.

There's more, such as Walmart's progress towards a "zero waste" future, but you get the idea. Again, the full report can be found here.

Any reaction to Walmart's 2016 Sustainability report? Let us know your thoughts at the Feedback button below.