---
Outdoor apparel company Patagonia has long positioned itself as a model of supply chain transparency and social responsibility when making supply chain choices.
Indeed, the company, based in Southern California, has said for years it would "build the best products" while "doing no harm" to the environment, workers, etc.

The Green Supply Chain Says:
It is a cautionary tale that says if you position yourself as having very high standards, you can expect a lot of scrutiny from various consumer and sustainability groups checking if your claims are accurate.

What Do You Say?

Click Here to Send Us Your Comments
But despite all that, in recent Patagonia has found itself under some supply chain scrutiny and criticism in recent years, demonstrating just how hard it is to police a global supply chain, especially in the apparel industry.
In 2010, the company discovered on its own that farmers supplying it with goose feathers for down linings in its jackets were also force feeding the birds to fatten them up producing foie gras. A couple of years later, Patagonia like many other Western companies in both apparel and high tech discovered brokers were charging very high fees to place workers in jobs at Patagonia supplier factories in Asia. And just last year, the People for the Ethical Treatment of Animals (PETA) released video showing significant abuse of sheep at a South American farm that provided wool to Patagonia.

No one thinks Patagonia doesn't take its values and goals very seriously. But lots can happen in an extended and largely outsourced supply chain. And in some cases, supply chains are constantly trying to keep up with messaging and advertising from the marketing side of the company house.
Companies often run into a large disconnect in which marketing teams want to tell the story "before operations and supply chain are ready and able to confirm it," Alexis Bateman, a researcher at MIT's center for transportation and logistics, told the Wall Street Journal this week.
Unlike many companies which latched on to social responsibility in more recent years, that was the mantra from Pategonia from its founding in 1975 by Yvon Chouinard, an environmentalist and who had been advising retailers on how to improve their sourcing practices in terms if transparency.

Chouinyard understands the challenges.

"When you are trying to clean up yor supply chain, you can't believe how deep you have to go," he told the Wall Street Journal.
For example, in recent years forms of slavery have once again been discovered in many supply chains. Just last week, risk consultancy Verisk Maplecroft said businesses had a "high or extreme risk" of association with slavery in their supply chains in 115 countries, with China and India among the emerging economies where it was most common.

It added that 10 of the world's 12 biggest garment-exporting countries hold a high or extreme risk of slaves working in their supply chains.
Patagonia's "Chronicles" Web Site Allows Customers to Drill Dow
for More Information on Its Suppliers World Wide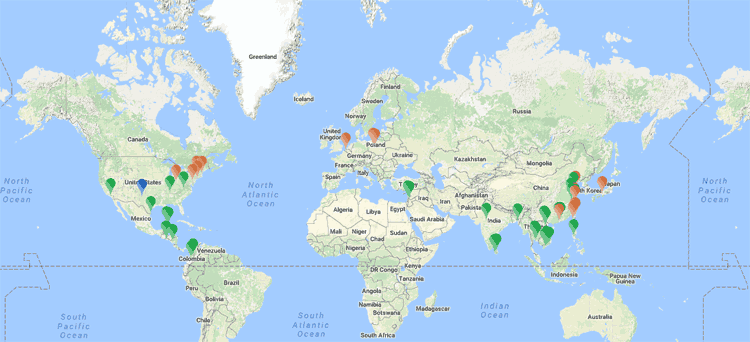 It turns out the Patagonia was already heavily engaged in addressing issues in its wool supply chain when the PETA videos were released last year. The farm from which the abuse was captured on video was part of a network of 160 ranches in South America called Ovis 21, which was the dominant supplier of wool to Patagonia.
After the video was released, Patagonia said it would stop buying from the Ovis 21 network, forcing it to scale back plans for some items, including a line of long underwear it had been developing for three years due to lack of wool supply.
Ovis 21 said the abuse videos were primarily taken at just one of the 160 ranches in its network and that the owner of that ranch was away from the property that day.

Patagonia was also forced by the min-scandal to rewrite its rules for sourcing wool and find new suppliers which met the new criteria. Sourcing team members travelled to remote farms across the globe to see ranches, animal treatment and shearing processes first hand – all of which cost the company a lot of money.
The company recently announced new wool sourcing arrangements with ranches in Utah and Oregon.
Patagonia is obviously doing something right: its sales have grown to some $800 million annually, and profits have tripled since 2008. But it is also a cautionary tale that says if you position yourself as having very high standards, you can expect a lot of scrutiny from various consumer and sustainability groups checking if your claims are accurate, and that the costs of social responsibility are very high indeed and maybe only made possible if you have a brand that achieves premium prices as Patagonia does.


How hard is it for companies to police the extended supply chain, especially in the apparel sector? What are the keys to success? Is it simply unaffordable for some companies? Let us know your thoughts at the Feedback button below.