Home products retail giant Home Depot has been working to reduce its environmental impact since Earth Day in 1990, before it was cool.
It's a non-stop, grind it out type of effort, VP of transportation Michelle Livingstone told the Journal of Commerce last week, but in the end Home Depot is able to reduce CO2 and logistics costs, Livingstone says.

The Green Supply Chain Says:
In the end, Livingstone said, it's beyond reducing transportation costs and CO2 emissions, but responding to customer demand.

What Do You Say?

Click Here to Send Us Your Comments
A key move was switching from use of palletized cartons in Home Depot trucks moving inventory to stores to floor loaded trailers. That obviously increased handling costs, but is worth it for the cost reductions in fuel and driver time and lower CO2 emissions per case.
"Moving to 'manual floor load' has been a cultural shift, but it's been positive," Livingstone told the JOC.
Another key change for Home Depot has been the development of what it calls inbound freight consolidation centers, of IFCs.

"We'll route trucks from stores to pick up partial loads from vendors and deliver them to the closest IFC which is co-located in an RDC," Livingstone said. RDCs are what Home Depot calls rapid deployment centers that the company implemented about eight years ago to switch from mostly vendor direct shipments to consolidated shipments on Home Depot trucks to stores.
"From that DC, we'll consolidate freight and ship a full truckload to the final RDC," which then sends goods to stores, Livingstone says. As a result, vendors ship fewer LTL loads to Home Depot, a change that generally is seen as reducing CO2 emissions versus full truckloads.
Home Depot has also looked at changing order patterns to drive transportation efficiencies.
For example, Livingstone says Home Depot implemented sys implemented a system that does "truckload rounding."

What does that mean?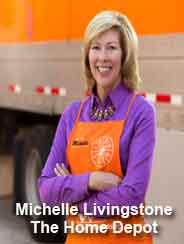 "Previously, we may have ordered enough product from a vendor for a full truckload plus a partial truckload. Now we can we'll hold that partial load and build a full truckload that will ship to us the following week," Livingstone says.
Livingstone also says its rapid growth in ecommerce business is helping to improve transportation flows. For example, she says many of its ecommerce-only SKUs, shipped to specialized ecommerce DCs, have now reach high enough volumes they can be shipped via LTL from the vendor versus parcel previously.
From these and other process and technology improvements, Home Depot estimates that it cut the equivalent of 4,000 inbound truckloads in 2015, and probably somewhat more than that last year, resulting in tens of millions of dollars in cost savings.

What's more, in 2016 The Home Depot won yet another SmartWay Excellence Award from the US Environmental Protection Agency, its fourth award in a row.
In the end, Livingstone said, it's beyond reducing transportation costs and CO2 emissions, but responding to customer demand.
Compared with a decade ago, or the 1990s, consumers are "much more informed and have a heightened awareness and sensitivity," Livingstone said. "There's a higher general knowledge base and interest level. Suddenly, folks are asking questions. They want to do the right thing."

Any reaction to Home Depot's strategies to reduce CO2? Let us know your thoughts at the Feedback button below.