Does anyone remember the famous "Pickens Plan?"
Released in 2008 by legendary energy investor Boone Pickens, the plan to reduce American's dependence on foreign oil included massive investment in wind turbines for electricity generation, but also low cost loans to truckers to enable them to raise the cash needed to make investments in compressed natural gas (CNG) tractors instead of diesel-powered vehicles.

The Green Supply Chain Says:
Many see natural gas as providing a more stable cost platform versus historically volatile oil and diesel prices, on top of the environmental benefits in terms of reduced CO2 emissions

What Do You Say?

Click Here to Send Us Your Comments
It came with a lot of media attention for a few years, with some politicians supporting the plan. Pickens himself helped create Clean Energy Fuels, a provider a natural gas service stations for trucks on a public and private basis.
But the Pickens Plan seems to have faded into the background, in parallel with weak natural gas trucks sales in the face of continuing low diesel fuel prices in the US.
New data from ACT Research says natural gas trucks sales started the year out relatively healthy, with the most units sold in a January in three years and also solid sales in February.
But the vast majority of those sales are to waste service providers and operators of city and school bus systems. The freight sector is still very slow to adopt natural gas trucks, ACT says.

"Among truckers, it appears as though the majority of incremental volume came from those who currently have natural gas vehicles and are replacing units or increasing their number," said Steve Tam, a vice president at ACT. Few carriers are jumping on the nat gas bandwagon for the first time.
In comparison to the total market, natural gas Class 8 truck and bus sales remain slow when calculated as a percentage of all sales. For 2016, the natural gas share was estimated at just 3%, down a bit due to the higher new truck sales overall and lower natural gas penetration.

"Given relatively low diesel fuel prices and the subsequent price narrower spread between CNG and diesel, payback times remain longer than most truckers' trade cycles," noted Tam.
Other research says adoption of natural gas trucks will grow, but at a much slower pace than many would have predicted a few years back.
Early in 2017, the researches at Frost & Sullivan predicted that natural gas' share of new trucks would rise to just 10% by 2015, including both CNG and liquefied natural gas (LNG) powered trucks.
Frost & Sullivan noted that natural gas truck sales have been constrained by higher acquisition costs for vehicles, today's relatively low oil prices, and an expected drop in government subsidies.
The report noted that renewed interest likely will come from fleet owners as a result of continued technological advances and improved manufacturing scalability, which should allow engine makers to lower the initial vehicle costs.
Regulations are Another Wild Card
A major factor in how much growth is seen in natural gas trucks in the US at least is the regulatory environment.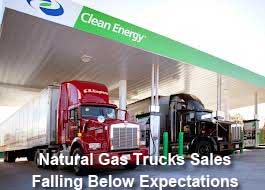 Just last month the Trump Administration announced plans to rollback Corporate Average Fuel Economy (CAFE) standards that called for passenger car and truck manufacturers build units that average 54.5 mpg by 2025.

That action doesn't affect Greenhouse Gas Phase 2 regulations for trucking, at least so far.

Were the Trump administration to cancel or push out those rules, it would certainly hurt the prospects for natural gas trucks - although a future administration could put them back in play later on. There is actually fairly strong support for the rules among many carriers, and many would not want the rules rolled back.
One reason is that many see natural gas as providing a more stable cost platform versus historically volatile oil and diesel prices, on top of the environmental benefits in terms of reduced CO2 emissions from natural gas.

About 60% of the cost of diesel is tied to raw materials, primarily oil. But with natural gas that ratio falls to just 25% or so, making it far less susceptible to international political volatility and wild swings in pricing.

Meanwhile, we have Tesla promising to "unveil" a new all-electric truck design in September (see Elon Musk's Plans for Electric Semi-Trucks - Bold New Strategy, or Hopeless Pipe Dream?)

In addition, companies such Nikola Motor Co. and Toyota are working on trucks powered by hydrogen fuel cells, in yet another take on alternative fuel freight vehicles.

Why are carriers slow to adopt natural gas tractors? How do you see this playing out? What about fuel cell trucks? Let us know your thoughts at the Feedback button below.