The United States EPA has partnered with several truck manufactures and by extension their engine and trailers partners have been working on so-called "super trucks" aimed at significantly boosting mileage performance.

Walmart and other large private fleets have been working on similar programs, with Walmart having shown a prototype of its own super truck in 2014 – though there hasn't really been any news on that front ever since. (See Walmart Unveils New WAVE Concept Truck - a Very Different Design for Sure.)

The Green Supply Chain Says:
If it's real – and it certainly appears it is – this would be a major breakthrough for both operating costs for carriers and private fleets and CO2 emissions.

What Do You Say?

Click Here to Send Us Your Comments
But now a truck dealer for the International brand is claiming it has worked on its own and with the OEM to produce a truck that is nearing in on the 10 miles per gallon barrier – and in some cases exceeding it.
As recently reported by Heavy Duty Trucking magazine, Cumberland International, based in the Tennessee city of the same name, has been working on this project for several years.
The project is now in its second phase, with an International LT tractor optimized to consistently deliver near or above 10 mpg in real-world trucking operations.
The truck design is the brainchild of Matt Smart, fleet sales director, and fleet sales account manager Patrick Mendenhall, who wanted to "think outside the box" to show customers that International was "making a great product again" while also demonstrating that a 10+ mpg truck is achievable in day-to-day fleet operations.

The dealer calls the result the RX-C10, with a downsped Cummins ISX powertrain, advanced safety systems and new age aerodynamics. The company partnered with a number of add-on equipment vendors in the effort.

A key concept of the C10 project is for Cumberland fleet customers to test the truck for themselves in their own, real-world, every day working conditions – the real acid test.

The initial in January 2014 with a company called Southeast Carriers delivered an encouraging 8.2 mpg – a major improvement over the 6.5-7 mpg being achieved generally – even though the route and application were particularly challenging in that test.
Since then, the C10 demonstrator model has transitioned from the original ProStar base model to an updated version based on the International LT Series powered by the new Cummins X15 engine.
In total, both trucks have completed almost 20 different customer demonstration runs, with overall fuel economy of 8.11 mpg on the original demo truck (RX C10) and averaging over 9.2 mpg on the second demo truck (NextGen C10) through four test runs. The highest number so far was an impressive 9.9 mpg overall achieved by a local Tennessee fleet. Mendenhall said no two test runs are identical and the truck experiences extreme variations in driver habits, traffic, loads, wind conditions and weather each time it goes out.

Customers tend to dictate the length of the runs, he added, with some keeping the truck for only a week at a time, and others keeping it for up to three months.
A chart from Cumberland of the latest for tests with the newest design is provided below: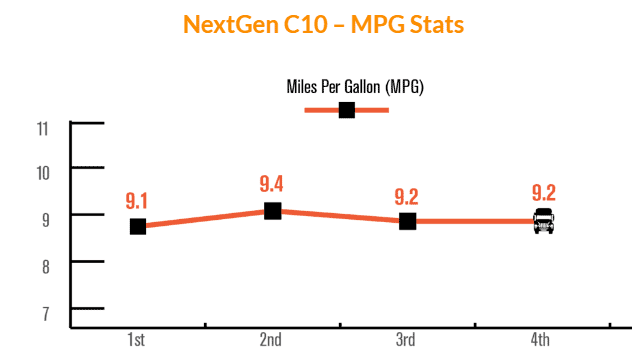 Source: Cumberlamd International
The dealer says The C10 routinely breaks the 10 mpg mark in top gear highway cruising.

If it's real – and it certainly appears it is – this would be a major breakthrough for both operating costs for carriers and private fleets and CO2 emissions.

TheGreenSupplyChain.com will keep you posted.

What do you think of effort by Cumberland International? What would be the impactof a 10 mpg truck? Let us know your thoughts at the Feedback button below.