---
As usual in June, BP released its annual Statistical Review of World for Energy 2017.The review is a sort of almanac of all matter of energy related data, now in its 66th year, and as always it is quite an interesting and educational read.

The headline news is that global primary energy consumption increased by just 1.0% in 2016, similar to the below-average growth recorded in 2015 (0.9%) and well below the 10-year average of 1.8%, as BP says we are in a "period of transition" in energy markets.

The Green Supply Chain Says:
Although the share of renewable power within primary energy edged up only slightly to 3.2%, its strong growth meant it accounted for over 30% of the increase in primary energy consumption.

What Do You Say?

Click Here to Send Us Your Comments
By contrast, world GDP grew at about 3.1% in 2016, according to the International Monetary Fund's estimate, so energy consumption grew only about one-third the pace of economic growth. tHowever, the report notes there was a global slowdown in industrial production IN 2016, the most energy-intensive sector of the economy.
But at the end of the day, big gains in energy efficiency are driving the reduction in energy consumption, the report says, noting that energy intensity - the average amount of energy needed to produce a unit of GDP - fell in 2016 at historically unprecedented rates.
As was the case in 2015, growth was below average in all regions except Europe and Eurasia. Emerging economies accounted for almost all of the increase in global energy consumption, with about half coming from China and India alone.
However, even in China, energy consumption grew by just 1.3% in 2016 - only about 25% of its 10-year average. Growth during 2015 and 2016 was the lowest over a two-year period since 1997-98. Energy consumption in India grew much faster in 2016, hwever, at 5.4%.
BP notes that this brake in China's energy consumption partly reflects the gradual slowing in economic growth, but it has been greatly compounded by pronounced weakness in China's most energ-yintensive sectors, particularly iron, steel and cement, which together account for around a quarter of China's total energy consumption.
Despite this, China remained the world's largest growth market for energy for a 16th consecutive year.
Overall, OECD countries saw a small increase in consumption (0.2%), with growth in Europe offsetting declines in the US and Japan, but all three regions were basically flat in 2016.

Emerging economies now account for 58.4% of global energy consumption, up a few ticks from 2015. However, growth in these countries of 1.7% was well below its 10-year average of 3.7%.
With the slow growth of energy consumption, CO2 emissions followed suit, rising just 0.1% as a result of energy consumption. During 2014-16, average emissions growth has been the lowest over any three-year period since the largely recession years of 1981-83.
By fuel, price of Brent oil price averaged $43.73 per barrel in 2016, down from $52.39 per barrel in 2015 and its lowest (nominal) annual level since 2004. Oil remained the world's leading fuel, accounting for a third of global energy consumption, and with the low prices driving an increase in oil's global market share for the second year in a row, following 15 years of declines from 1999 to 2014.
The low prices led to an decline in US oil production of 400,000 barrels per day on average, or a drop of 3.2%. That said, the 10-year growth average growth in production has been 6.3%, and the US in 2016 contributed 13.4% of total global oil production.
World natural gas consumption grew by 63 billion cubic metres (bcm) or 1.5%, slower than the 10-year average of 2.3%, led by rapid growth in European consumption.
Natural gas prices fell in all regions, with the US benchmark Henry Hub down yet again, falling 5% after a sharp decline in 2015, while European and Asian gas markets were down 20-30% as prices continued
to adjust to increased LNG supplies.
Perhaps the most striking feature across the different fuels was the continuing rapid descent of coal, with consumption (-1.7%) falling sharply for the second consecutive year and the share of coal within primary energy declining to its lowest level since 2004.

The turnaround in the fortunes of coal over the past few years is stark: it is only four years ago that coal was the largest source of energy demand growth. There may be further ups and downs in the fortunes of coal over coming years, but the weakness in recent years does seem to signal a fairly decisive break from the past.
Global nuclear power generation increased by 1.3% in 2016. China accounted for all of the net growth, expanding by 24.5%.


Renewable power (excluding hydro) grew by 14.1% in 2016, below the 10-year average, but the largest absolute increase on record. Although the share of renewable power within primary energy edged up only slightly to 3.2%, its strong growth meant it accounted for over 30% of the increase in primary energy consumption.
China continued to dominate renewables growth, contributing over 40% of the global increase - more
than the entire OECD - and surpassing the US to become the largest producer of renewable power. That said, US renewable energy represented a strong 20% of total global consumption.
Wind power generation grew 15.6% in 2016, while solor power generation grew a very rapid 29.6% globally.
However, global biofuels production grew by just 2.6%, well below the 10-year average of 14.1%.

A chart showing global energy consumption by fuel source over time is shown below: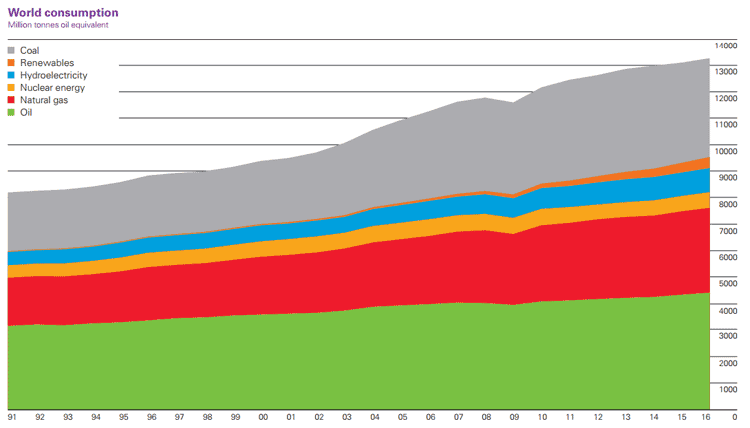 Source: BP


There's a lot more, and we encourage you to take a look at the report, which is available here: BP Statistical Review of World Energy 2017

Good job by the experts at BP again this year

Any reaction to this year's BP report? Let us know your thoughts at the Feedback button below.