---
It has been interesting to watch the evolution of Walmart since former CEO Lee Scott pushed the retail giant into a Sustainability path in the mid-2000s.
That focus has been continued under subsequent CEOs, but in the last few years current CEO Doug McMillon has aggressively moved the program in terms of full corporate social responsibility, in which Walmart can be said to be trying to change the world.
"We believe we can deliver for our customers at the same time we create what Dr. Michael Porter from Harvard Business School calls "shared value" for our business and society," McMillon said his opening letter in Walmart's recently issued Global Responsibility Report for 2017, a document that until 2011 was called the Global Sustainability Report.

The Green Supply Chain Says:
Having made progress in its own operations on CO2 and more, Walmart is setting its eyes on its supply base.

What Do You Say?

Click Here to Send Us Your Comments
"What was once largely about our own operations has expanded and shifted into helping rewire whole social and environmental systems," McMillon wrote, indicative of the "change the world" posture.
The full report is sprawling, weighing in at just under a whopping 200 pages, which the GreenSupplyChain.com thinks is a shame because it makes it very hard to get through, a situation in part created by the same information being included in two or more places quite often.
We'll summarize some of the highlights here, with the content and Walmart initiatives clearly having gone far beyond the logistics and supplier compliance that dominated the report many years ago.

The report notes that at the Net Impact conference on Nov. 4, 2016, McMillon outlined new targets for the company, after a number of 2015 goals had been achieved. They include:

Increase economic opportunity in retail and retail supply chains: Walmart hopes to increase economic mobility for workers, "whether they work in a Walmart or other retail store, a factory or a family farm."

Source more products locally around the world, including a goal to source $250 billion in products supporting American jobs by 2023.

Accelerating the mobility of frontline retail workers beyond Walmart: "We must strive to identify and reduce system-wide barriers and to give workers the tools they need to advance within our stores, within the sector, or even in other parts of the economy," Walmart says,
Enhancing the sustainability of our operations and value chains

Supporting economic inclusion in communities and supply chains
Relative to several of those, Walmart touts its progress in hiring and retaining women.The report says that in 2016, 55% of Walmart's total U.S. workforce were woman, as well as 43% US management and 30% US corporate officers. Woman also were 57% of US hourly promotions, and 47% of those in management.

Similar story with diversity, with "people of color" said to be 43% of the total US workforce, 31% of management, and 21% of US corporate officers
On the environmental front, Walmart has a goal of being powered by 50% renewable energy by 2025, and reduce emissions in its own operations by 18%.
Walmart has certainly made major progress in its own energy and CO2 intensity, as shown in the chart below, which shows the consistent rise in its retail square footage globally and the near flat growth of its C02 emissions over the last decade.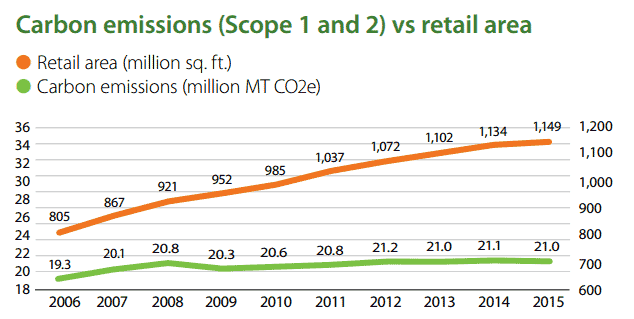 This year, logistics improvements relative to efficiency and CO2 get relatively little play, though the company cited "continuing to improve fleet technology" as one of its tactics and that it met goals in transport set years ago for 2015. That could be because only 7% of Walmart's total CO2 emissions come from use of transport fuels.
Interestingly, Walmart notes the growth of ecommerce is changing the demands on its logistics network and that it is evolving its approach to distribution, warehouse and delivery technologies, vendor relationships, and packaging to combat the CO2 impact from more, smaller deliveries.
Walmart notes that it has found the Power Purchase Agreement (PPA) to be "a highly effective model for Walmart to leverage our scale and buying power to accelerate renewables."

Under these arrangements, Walmart agrees to buy renewable power from an energy provider over a period of time, while the energy provider owns, installs and operates the renewable energy systems.

At the end of FY2017, Walmart had more than 480 on-site and off-site projects in operation or under development in seven countries and 16 US states, supplying over 2.3 million kWh of renewable energy to ITS facilities. Together with renewable electricity from the grid, Walmart estimates is gets 26% of its electricity needs globally from renewable sources.
620,000 solar PV panels, enough to cover 190 football fields, have been installed at Walmart facilities in the US since 2007.

In addition, to complement its solar installations, Walmart says it is also ramping up its investments in energy storage. It has a partnership with Tesla, for example, that has led to major energy storage projects in 18 of its stores in California. These include the installation of mega-batteries linked to on-site solar installations.
Walmart adds that it "envisions a world where people do not have to choose between energy they can afford and renewable energy that is better for communities and the planet."
Having made progress in its own operations on CO2 and more, Walmart is setting its eyes on its supply base.
For example, earlier in 2017, Walmart announced "Project Gigaton," in which it will work with suppliers to reduce 1 Gigaton of emissions between 2015 and 2030.
Walmart also cites progress with its Sustainability Index for suppliers, first announced in 2009. In FY2017, it reached a goal set in 2012 of buying 70% of its US goods from suppliers that participate in the Index, in categories where the Index is available.
Last year, Walmart said it saw a 60+% increase in number of suppliers responding to the data survey, with some 2,000 suppliers completing 5,300 surveys. Walmart also says well over 300 of its buyers now have scorecards for their suppliers.
More on suppliers: Walmart says through its "Factory Energy Efficiency Program," it is working with suppliers to promote energy efficiency in the factories in its global supply chain.
It has placed special focus on China, where its initiative complements the Government's five-year goal of reducing energy intensity by 15% by 2020, Walmart says, adding "We aim to have a reported 70% of our China-sourced business participating in a factory energy efficiency program by the end of 2017."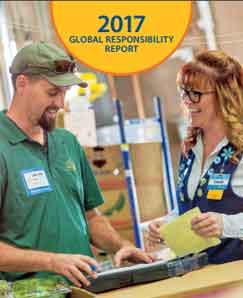 To achieve this target, Walmart has promoted use of McKinsey & Company's Resource Efficiency Deployment Engine (RedE), a web-based tool designed to help suppliers identify, prioritize and implement energy efficiency projects in a simple, easy-to-use platform. Over 600 factories have joined the RedE system, while an active user is projected to save more than $150,000 in operational costs and reduce CO2 emissions by 900 metric tons from using the tool.
And Walmart says it can drive this kind of environmental progress at suppliers and still keep prices low, citing Intradeco, which significantly improved the sustainability of Walmart's $3.88 ladies' t-shirt without raising the price.

Walmart also has a goal of achieving zero waste to landfill in its operations in the US, UK, Japan, and Canada by 2025.

Other Walmart initiatives in this area include: expand sourcing of commodities produced with zero net deforestation by 2020 ; expand and enhance more sustainable sourcing to cover 20 key commodities; Walmart private brand products will use 100% recyclable packaging; work with suppliers to reduce product and packaging waste and help preserve natural resources.
There is also much on Walmart's efforts "to improve the lives of people in communities."
As just some examples, in addition to efforts to create career opportunities for Walmart employees inside and beyond Walmart, the company said it would meet its existing commitment to donate 4 billion meals to fight hunger by 2020 and strengthen the charitable meal system.
Walmart and the Walmart Foundation is contributing $25 million towards disaster relief and resiliency around the world between 2016 and 2021.
Walmart is also getting aggressive in the so-called "circular economy," for example by refurbishing products. Walmart utilizes four refurbishing centers across the US, where its sends returned and damaged phones, tablets, TVs, computers and game consoles so they can be repaired and resold at a discount. In FY2017, it sent more than 6 million electronic items for refurbishment.
There's a lot more, but you get the idea. If you want to wade through all 200 pages after we did it for you, the full report can be found here: Walmart Global Responsibility Report 2017.

Any reaction to this year's Walmart report? Let us know your thoughts at the Feedback button below.