Truck manufacturers have been delivering trucks with incrementally improving mileage rates for many years, but the reality for carriers and shippers is that miles per diesel gallon in the 6-7 range are still the norm.

Work on so-called "super trucks" by a variety of truck, engine and trailer manufacturers in partnership with the US Dept of Energy has been on-going for several years and certainly shows promise. However, some of the components used in the prototype trucks are not yet commercially, for cost or performance reasons. (See When will SuperTruck Technologies ever See Commercialization?)


The Green Supply Chain Says:
The truck that achieved the highest total average of 11 mpg also logged the most miles - more than 11,000.

What Do You Say?

Click Here to Send Us Your Comments
Walmart has also made investments in developing its own super truck concept.

But maybe the path is easier than we think.

For example, seven drivers participating in the just completed Run on Less fuel event, sponsored by the Carbon War Room and the North American Council for Freight Efficiency, were able to achieve on average mileage of 10.1 mpg over tens of thousands of miles, using their own skills and largely inexpensive, currently available technology add-ons.

The contest involved the seven drivers hauling freight over 17 days and 50,000 miles, pulling an average load of 55,500 pounds. The results proved that 10 mpg is possible using technologies that are available on the market today, the sponsors said, with the results far exceeding the original 9 mpg goal set by CWR and NACFE.

The trucks combined used more than 80 fuel-efficient features, and included relatively low-tech ideas such as covered wheels, trailer aerodynamics and low-rolling resistance tires. More advanced technologies included 6x2 axles, trailer and tractor aerodynamics, engine accessories, tire pressure systems, automated manual transmissions, low viscosity oils, and more - assisted by expert drivers who know how to drive to achieve the best mileage results.

If the industry could achieve 10.1 mpg, it of course would be a dramatic increase versus those current 6-7 levels. If the 1.7 million trucks on North American highways today achieved the same level of efficiency as the trucks in the contest, they would save 9.7 billion gallons of diesel fuel, $24.3 billion in fuel spend, and 98 million tons of CO2 each year, the sponsors estimated.
The participants included seven different trucking companies/fleets, ranging from national long-haul fleets such as PepsiCo and US Xpress, to regional shippers like Albert Transport and Mesilla Valley Transportation. Three different vehicle manufacturers were represented, with the teams using a combined three International, two Freightliner and two Volvo trucks.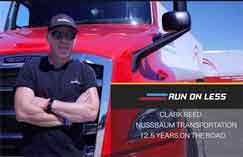 The highest mpg achieved in a single day was 12.8, and three different trucks had days over 12.5 mpg. The truck that achieved the highest total average of 11 mpg also logged the most miles - more than 11,000.

"These results are impressive and show what can be achieved with today's available technologies, and what happens when you focus your efforts around getting total engagement from the entire stakeholder value chain," said Scott Perry, chairman of NACFE and chief technology and procurement officer for Ryder Systems.
The event was a true demonstration of efficient technology because it was conducted in the real world, with wind, traffic and more than 165,000 total feet of elevation gain, a representative from the North American Council for Freight Efficiency noted.

The obvious question: why can't these technologies and driving techniques be disseminated to the broader market quickly?


What do you think of the Run on Less results? Why can't the technologies and technogies involved making it quickly to the broader market? Let us know your thoughts at the Feedback button below.