The Carbon Disclosure Project (CDP) is back with its annual report for 2018 on carbon emissions practices at thousands of suppliers to its 99 main spponsor comapnies.

The Green Supply Chain Says:
The report says that the number of supply chain members requesting their suppliers to report water information has reached a new high this year.

What Do You Say?

Click Here to Send Us Your Comments

The report begins by stating that temperature increases have already reached 1 degree C above pre-industrial levels. The 2015 Paris climate agreement called for warming to be held to 2 degrees C at the most, with the ambition to meet a lower threshold of 1.5 degrees C.
"Research indicates that it is possible to achieve this more ambitious 1.5 degree C goal, but this will require a significant step up in effort, and this is where businesses need to lead," the CDP says.
This year, 99 global companies, including just as examples Walmart, Dell, L'Oréal, Grainger, Kellogg, Honda, Johnson & Johnson and more than 90 others, asked their suppliers to complete this year's survey on carbon emissions. For the main survey, 9139 suppliers to these sponsor firms, and roughly half (4800) completed surveys were achieved. There is a detailed survey for larger suppliers, and a more abbreviate one for smaller supplier firms.
The US led the way with 1590 responding companies, followed by China with 463 and Japan with 452. The were about 630 respondents combined from the UK, Germany and France. However, the report laments that only 36% of US-based suppliers responding to the supply chain questionnaire set overall climate change targets.

Of those 4800 respondents, 47% have an emissions or renewable energy target, while 20% indicated their emissions targets were "science-based."
Whether that last data point is accurate may be in question, as the report notes that the Science Based Targets initiative as of now has only 330 organizations currently acting formally (many from the 99 CDP sponsor companies), with Europe-based companies taking the lead ahead of those based in the Americas and Asia.
In recent years, the CDP has expanded the number of potential surveys beyond just CO2 emissions, such as one around water management. The report says that the number of supply chain members requesting their suppliers to report water information has reached a new high this year, with nearly 1,500 suppliers disclosing water data through the CDP supply chain program, out of 4,850 companies that were requested to participate.
Of those responding, 62% of suppliers report having company-wide water-related targets.
Despite having by far the number of survey respondents, US companies overall lagged a bit behind the global averages in a number of dimensions related to carbon emissions practices, as shown in the graphic below:
US (Country) Practices (in Percent) versus Overall Global Scores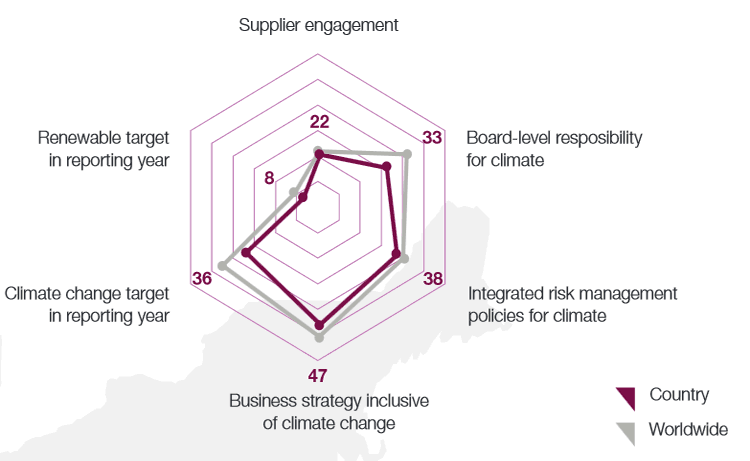 The details from reporting for seven other countries in addition to the US are included in the analysis.

Other highlights from the report, from the 4800 responding companies, include:

• 3400 supplier organizations have identified climate change opportunities that could lead to a substantive change in their business, up from 2968 in 2016
• 2530 suppliers report that they have integrated climate change into their business strategy, up from 2270 suppliers in 2016
• 2359 suppliers report emissions reduction initiatives, up from 2189 companies in 2016
• More than 1,100 companies stated their commitment to setting a science-based target within two years.

• However, just 9% percent of responding suppliers reported using an internal carbon price in 2017full
There is a lot more in the full report, which can be found here: CDP Global Supply Chain Report

Do you think this tool will be useful? Let us know your thoughts at the Feedback button below.