When it comes to Sustainability, you really can have your cake and eat it too - that is, go Green and reduce supply chain costs at the same time.
That was a big part of the message from Piyush Bhargava, vice president of enterprise procurement and packaging at technology giant Dell, during a presentation last week at the CSCMP annual conference in Orlando. The presentation was one of six competing for the annual Supply Chain Innovation award determined at the conference.
The Green Supply Chain Says:
If Sustainability increases supply chain costs, Bhargava said, the business unit leaders will simply lose interest, worried about seeing their margins erode.

What Do You Say?

Click Here to Send Us Your Comments
Bhargava admitted that at first he was something of a Sustainability skeptic, believing that aggressive pursuit of a more Green supply chain might negatively impact the speed and efficiency that had since its founding been at the core of Dell's operational excellence.
But he is a convert now, after having been a key part of the team involved in how Dell has been able to get more Sustainable while reducing costs and maintaining its efficiency prowess.
The key really has been innovation, Bhargava said. The process started when company executives realized a few years ago that progress on a series of aggressive Sustainability goals was not occurring fast enough to achieve them by 2020, part of Dell's "Legacy of Good" mission that is championed by founder and CEO Michael Dell.
The only answer, it seemed, was to accelerate the pace of innovation to drive Sustainability faster into just about every facet of Dell's operations, from procurement to manufacturing to logistics.
There were three keys to the transformation, Bhargava said.
First was creating and sustaining an innovation culture. That included significant employee communications around the program, extensive training in topics such as "Design Thinking," and competitions and recognition for employee efforts. More on that below.
The second key, Bhargava said, was identifying and deploying various tools in support of the program. That included, for example, a "crowdsourcing" application for employees to submit and track innovation ideas, as well as development of a repeatable process for evaluating and in some cases promoting innovation ideas.

Third involved defining progress clearly, as Dell developed a series of innovation metrics that measured the pace and success of innovations in Sustainability.
Also key was creation of a cross functional executive steering committee, which provided very senior leadership to the program. It is also the group that decides for a given suggestion whether it should be promoted to execution, tabled for a bit, or for now rejected.
There is a lot more. Dell conducts a regular "innovation Olympics" when individual or teams of employees compete and are recognize for innovation ideas.
Regular supplier innovation summits are also held, and Dell works hard to mine ideas from its supply base.
The innovations have come across virtually every area of the supply chain. Dell found, for example, that the somewhat toxic paints on some of its computers could in some cases be replaced with a far safer film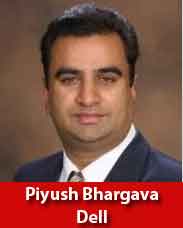 covering.
A Dell supplier came up with the idea of mixing in straw grass with the wood-based pulp for some Dell corrugate boxes. Not only is straw grass more quickly renewable than trees, it turns out in areas of China it is actually burned as a farming waste product. Dell now uses a mix of 30% saw grass pulp in some of its boxes, in a double win for the environment.
All that sounds good, but in the end, what is the financial impact of all of this? Bhargava said that it is critical that Sustainability efforts at minimum keep costs no higher than they had been, and hopefully actually reduce costs.
If Sustainability increases supply chain costs, Bhargava said, the business unit leaders will simply lose interest, worried about seeing their margins erode.
But it's worked out for Dell. Bhargava said the program in aggregate has actually reduced supply chain costs about $100 million annually for the past two years, for a $200 million total savings.
What's more, Dell is now on track to reach about 90% of its many 2020 Sustainability goals, thanks to all of the innovation the program has delivered. More than 500 ideas have been submitted by Dell employees since 2013.
Capping off a good story, Dell indeed was the 2016 winner of the Supply Chain Innovation award, announced in the general session on the last day of the CSCMP conference.


Any reaction to Dell's Sustainability story? Is innovation the real key to having both a Green supply chain and reducing costs? Let us know your thoughts at the Feedback button below.