Former Walmart CEO Lee Scott really got the retail giant''s Sustainability engine moving in the mid-2000s. The program was certainly supported under Scott''s successor Michael Duke, and arguably taken in even more aggressive directions by current CEO Doug McMillon.
The Green Supply Chain Says:

Some of all this may be coming from Walmart''s own view of how it needs to proceed. But increasingly, Walmart consumers want to buy Sustainable products, McMillon said.

What Do You Say?

Click Here to Send Us Your Comments
McMillon, for example, wrote in Walmart''s Global Responsibility Report for 2016 that "When we get it right, customers are able to shop at ease, knowing we did the work for them. They know that the products on our shelves and website were produced at a low "true cost" for all - not just in terms of being the best value, but in terms of whether they enhance the environment and the lives of all the people who helped produce them."
McMillon poured it on some more last week at the Net Impact conference in Philadelphia, laying out a number of new Sustainability goals for 2025. They include:
• Achieve zero waste to landfill in Canada, Japan, UK and the US

• Be powered by 50% renewable energy sources (versus about 25% currently) under a plan designed to achieve "science-based" CO2 emissions targets

• Double sales of locally grown produce

• Expand sustainable sourcing to cover 20 key commodities, including bananas, grapes, coffee and tea

• Use 100% recyclable packaging for all private-label brands

• Eliminate certified synthetic colors and artificial flavors and get rid of other food additives "where possible"
Now, for some of the detail.
McMillon said Walmart will be the first retailer with an emissions-reduction plan approved by the Science Based Targets Initiative, an organization formed by the CDP (Carbon Disclosure Project), the UN Global Compact, WRI (World Resources Institute) and WWF (World Wildlife Fund). It says its mission is to help companies determine how much they must cut emissions to prevent the worst impacts of climate change. It does that by somehow working with companies to align their CO2 emission reductions goals with UN calculations about how much CO2 emissions must fall to meet the levels some believe will keep temperatures from rising above the 2 degrees C level many see as the key to minimizing the environmental impact.

Walmart says that will use a combination of energy-efficiency measures, along with a commitment to source half of the company's energy needs from renewable sources, to achieve an 18% emissions reduction in its own operations by 2025. It says it will also work with suppliers to reduce their emissions by one gigaton by 2030.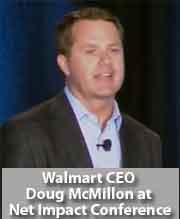 Another new 2025 commitments is to source "more commodities produced with zero net deforestation, including Brazilian soy and private label pulp, paper and palm oil." However, specific goals if any in this area were not detailed.
The new goals go beyond environmental issues. When it comes to its workers, Walmart says it will put "millions of people" through training to equip them with portable skills to get ahead, whether they stay with the company or move on to another. That echoes thinking McMillon first articulated in Walmart''s 2015 Sustainability report, when he wrote that one of the company''s missions is to create "economic opportunity for our associates, suppliers and people who work in retail and retail supply chains beyond Walmart."

Walmart also says that it will "foster predictability and stability through paid time-off and predictable schedules" for its workers, and ensure men and women are paid equally for the same work across the globe.

Walmart recently signed on to the White House First Jobs Compact, a nationwide effort to help out-of-school, out-of-work youth ages 16 to 24 find their first jobs.

Some of all this may be coming from Walmart's own view of how it needs to proceed. But increasingly, Walmart consumers want to buy Sustainable products, McMillon said.

"In our experience, there are a lot of customers" who care about Sustainability, McMillon said, adding that "Over time, they''re becoming more sensitive and aware of what they''re buying and their impact on the world."

You can view McMillon''s presentation here: Walmart CEO Doug McMillon at 2016 Net Impact Conference


What is your take on Walmart's new Sustainability goals? Let us know your thoughts at the Feedback button below.