The meat industry isn't generally at the top of the list when it comes to sectors that are known for Green supply chain initiatives.
Indeed, the meat industry comes under frequent attack from environmental and climate groups over claims that the supply chains of livestock farmers create high levels of CO2 emissions.

The Green Supply Chain Says:
The moves are interesting given that many believe the US government will use a less heavy hand in terms of CO2 reduction by business under a President Trump administration.

What Do You Say?

Click Here to Send Us Your Comments
For example, California Gov. Jerry Brown signed legislation in September that for the first time regulates greenhouse gases from livestock operations, as methane - for more heat-trapping than CO2 - is released when animals belch, pass gas and make manure.
Livestock is responsible for 14.5% of human-induced greenhouse gas emissions, with beef and dairy production accounting for the bulk of it, according to a 2013 United Nations report.
So with that backdrop, pork giant Smithfield Foods, which was acquired by China's biggest meat processor, Shuanghui International Holdings, in 2013, perhaps surprisingly has just announced a major plan to reduce greenhouse gas emissions from its operations.

Smithfield says it will cut a quarter of its current carbon emissions over eight years, a move the company says will trim costs and it hopes enhance its brand image.
The company says it will reduce use of fertilizer used to grow grain for pig feed, install systems to extract natural gas from manure, improve transportation routing and more.
Smithfield estimates it total supply chain emits about 17 million metric tons of CO2 annually, nearly as much as five coal-fired power plants. The company been criticized by environmental groups for its practice. In 2001, former CEO Joseph Luter III derided Smithfield's critics as whiny.

However, just a year later, Smithfield hired Dennis Treacy, a former director of Virginia's Department of Environmental Quality, to help make the company more environmentally friendly. Treacy himself had sued Smithfield in the 1990s for wastewater violations. At the time, he said, "we didn't think much of Smithfield," Treacy recently told the Wall Street Journal.
Smithfield contracted with researchers at University of Minnesota to quantify carbon emissions across its operations, from suppliers to consumers. Hog manure contributed the most gases, as much as 35% of the total. Grain production and processing contributed roughly another quarter, while cooking and refrigeration by customers represent up to another 25%. Transport, slaughtering and power for Smithfield's plants and buildings make up the remainder.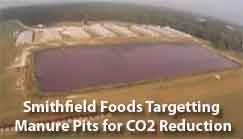 To reach its CO2 reduction goals, Smithfield has hired agronomists and purchased sensors to help farmers monitor the content of their soil and avoid applying too much fertilizer, such as nitrogen, which emits nitrous oxide when spread onto cornfields. Truck routes are being analyzed to reduce miles driven by Smithfield's fleet.
Giant manure pits around hog farms will be a top priority. Smithfield will cover the pools and add systems called anaerobic digesters that convert methane into electricity or natural gas, which can be sold to local power companies. Covering the pools also reduces overflow risks from rain.
The moves are interesting given that many believe the US government will use a less heavy hand in terms of CO2 reduction by business under a President Trump administration. But that of course does not mean companies such as Smithfield will not take aggressive actions relative to CO2 on their own, often saving real dollars as a result and perhaps currying greater favor with consumers at the same time
Smithfield CEO Ken Sullivan said Smithfield's emissions plan is "apolitical" and not a response to any regulatory pressure. Rather, it is based on business and the belief it is the "right thing," he said.

Two-thirds of US consumers will pay more for a product marketed as sustainable, according to research from Nielsen, though the reality is the connection between sustainability and consumer spend is still unclear.


Any reaction to Smithfield's CO2 plan? Let us know your thoughts at the Feedback button below.